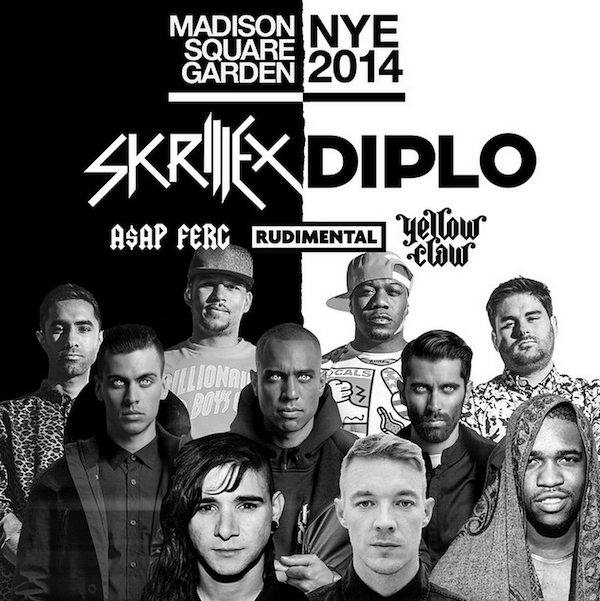 Between the constant hustle and bustle, the immaculate skyline, and the never-ending nightlife, there is no doubt that New York City is indeed the greatest city in the world. That being said, it is no coincidence that two of the most exciting electronic acts of 2014, in Skrillex and Diplo, have joined forces to play what is shaping up to be the biggest NYE show on the planet. Did I forget to mention that they will be performing at one of the most legendary venues in Madison Square Garden? Yea, this is definitely going to be one for the ages.
As the powerhouse duo takes over MSG to ring in 2015 alongside the likes of Yellow Claw, A$AP Ferg, and Rudimental, they will not only be celebrating the arrival of the new year, but also celebrating what proved to be a massive past twelve months for the two of 'em. The two A-list DJs took 2014 for a ride, dropping countless filthy tracks, embarking on massive tours worldwide, and most excitingly, meshing their talents to form JACK Ü.  With a few landmark shows already under their belts at Ultra, HARD Summer, and XS following EDC Vegas, this NYE show has all the makings of a legendary evening, one you will be telling your grandchildren about. Both Skrillex and Diplo will each be performing a solo set, which will be followed by a highly anticipated, face-melting set from JACK Ü. So if you are looking to be part of history this New Year's Eve, I suggest you run, not walk HERE, to secure your spot at the biggest show of 2014.
If that didn't convince you to attend the #greatestNYEeverOFallTIMEever, maybe these will:
Twelve Days of New Year's Eve Events:
1. SnowGlobe 2014
2. Toronto's Countdown NYE  
3. Zedd at XS
4. Reaction NYE
5. Insomniac Countdown & White Wonderland
6. Skrillex and Diplo at MSG
The post The Twelve Days of New Year's Eve Events: Skrillex and Diplo at MSG appeared first on EDMTunes.